SInce its release in 2012 the Raspberry Pi has appeared in a number of fictional TV shows and movies. It has been used to track people, hot-wire vehicles, hack buildings and blowup mountains.
Here is a summary of all the films and TV shows that have featured our favourite single-board computer.
TV Shows
The first TV appearance was way back in 2013 when the Pi was barely a year old. Since then it has been used in nine TV programmes.
Revolution
Season 1 Episode 17, "The Longest Day", NBC, 13th May 2013
Continuum
Season 2 Episode 12, "Second Last", Showcase, 28th July 2013
Person of Interest
Season 3 Episode 11, "Liberty", CBS, 24th Sept 2013
Arrow
Season 2 Episode 4, "Crucible"
Warner Bros. Television, 30th October 2013
CSI: Cyber
Season 1 Episode 2, "CMND:/Crash"
CBS, 11th March 2015
Sense8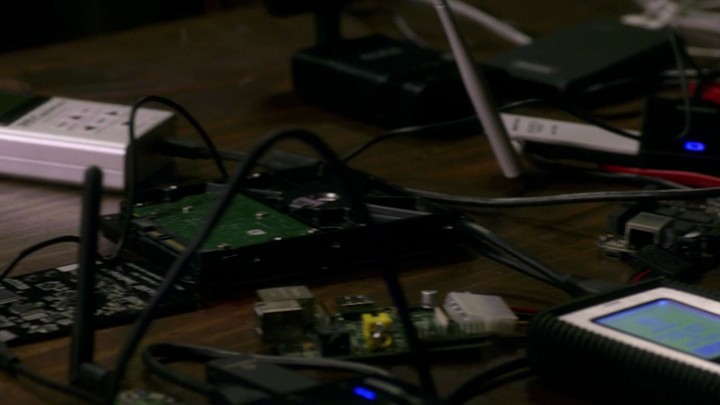 Season 1 Episode 11, "Just Turn the Wheel and the Future Changes"
Netflix, 5th June 2015
Mr Robot
Season 1 Episode 4, "eps1.3_da3m0ns.mp4"
USA Network, 22nd July 2015
Mr Robot
Season 1 Episode 5, "eps1.4_3xpl0its.wmv"
USA Network, 22nd July 2015
Charlie Brooker's Election Wipe 2015
BBC, 2015
Mr Robot
Season 2 Episode 5, "eps2.3_logic-b0mb.hc"
USA Network, 3rd August 2016
Black Mirror
Season 4 Episode 5, "Metalhead"
Netflix, 29th December 2017
Films
It took a few years for a Pi to appear on the big screen but has now appeared in two productions. In the animated feature "Big Hero 6" a Pi can be seen on a desk in the background. In "Point Break" a number of Pi's with touch screens are used as timers on a large bomb.
Big Hero 6
Walt Disney Pictures, 2014
Point Break
In Point Break (2015) the Pi is used as a detonator for a bomb. The screens appear to be RPi Displays from Watterott Electronics encased in a TEK-BERRY clear enclosure.
Warner Bros. Pictures, 2015
---
YouTube Video
You can see the clips in which the Pi makes an appearance in a video I've put together :
Don't forget to subscribe to my YouTube Channel.
Other Note Worthy Mentions
Doctor Who
The Raspberry Pi appeared in the production art for a Doctor Who episode although it was not visible in the final prop. The device is used by the character "Nardole" played by Matt Lucas. Did they use a Raspberry Pi in the onscreen prop? Perhaps we'll never know.
Season 10 Episode 8, "The Lie of the Land"
BBC, 3rd June 2017
---
My favourite use of the Pi is in Mr Robot where it is used a number of times, referred to by name and used for a purpose that makes good use of its features. Charlie Brooker get's a salute for including a Pi in both his 2015 "Election Wipe" and an episode of "Black Mirror".
I'm sure the Pi will continue to appear on our screens so keep your eyes open and post a comment if you spot one in future productions.